We've all been there......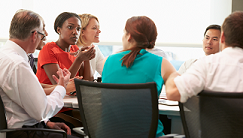 You're in a meeting to discuss students who are falling behind in reading and your list is full of English learners. The same questions come up week after week....What is "normal" literacy development? When is an intervention warranted? What is developmentally appropriate progress for students at various language proficiency levels? What's different about literacy instruction for English learners? Schools often struggle with early literacy instruction for English learners.
If you are an elementary teacher, ESL teacher, reading specialist, special educator, or school administrator, YOU NEED THIS COURSE! If earning 2 GRADUATE CREDITS* while learning about literacy interests you, YOU NEED THIS COURSE!
Trust the experienced early childhood ESL experts at English Learner Portal to share the best practices for building language and literacy throughout your school day!
SELF-PACED! You complete this course at your own pace within 3 months of the start date. Set your own schedule and take extra time on the sections that you need the most!
"Whole to Part" will take you through a process of understanding the link between language and literacy, and then applying this knowledge to effective teaching practices. Participants will plan lessons that leave students reading and writing beyond their assessed reading levels and excited about literacy.
What will I learn?

Module 1: The Why, What's Normal, What's Not
Module 2: Overview of the Best Practices for Oral Language Development
Module 3: Whole Group Language and Literacy Development
Module 4: Small Group Language and Literacy Development
Module 5: Language and Literacy Development All Day
Module 6: Language, Literacy, and Independent Work
including model lesson videos in English and Spanish!!
What people are saying...

"...Whole to Part instruction builds literacy skills faster than using isolated language pieces found in de-contextualized drills because the context is relevant, significant, and engaging. My students have bloomed using this approach..." ESL teacher
Join us now! Your students do not have any time to waste!

*Earn a certificate for 30 hours of professional development while you close the literacy gap! Turn that certificate into 2 GRADUATE CREDITS with a fee of $150 to Brandman University. Tuition reimbursement applies in most districts. Join the next cohort or choose an independent study that begins and ends when you choose!