Summer courses begin June 17th! Enroll now!
Let's face it, getting students to write is a chore!

If you are nodding your head or yelling, "YES!", this course is for you!
So how do you increase writing proficiency? By beginning where students are comfortable! Talking!!
Ready to increase the rigor of you "think-pair-share"? How about upping the ante of student collaboration? Would you like to see your students write to describe, explain, and argue? Through this book study we will learn how to increase opportunities for student discourse, how to ensure that discourse is academically focused, and how to transfer the background knowledge gained through that discourse into a variety of genres of writing. We will review research on the needs of ELLs in the domains of speaking and writing, examine the Common Core State Standards for speaking and listening, learn how to integrate language and content standards, and develop lesson plans using a variety of strategies for speaking and writing.
BOOK INCLUDED WITH COURSE PURCHASE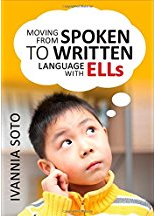 Participants will receive a copy of the book through Amazon.com within days of enrollment.

This online book study is self-paced and available on demand - when it is convenient for you, from anywhere you can connect to the internet! Why not get credit for the books on your nightstand! *
What people are saying about "Moving from Spoken to Written Language with ELLs"....
"This is a very informative book for ELL teachers, well written and formatted. I had many good take-away ideas after reading this work." Amazon Customer
Join us now and get those students moving!
*Earn a certificate for 15 hours of professional development while you close the literacy gap! Turn that certificate into 1 GRADUATE CREDIT for an additional fee of $75 to Brandman University.